pervormance international GmbH
E.COOLINE Powercool SX3 SunVisor - cooling sun shield
---
Item number 37507310-200-OS
---
Powercool SX3 SunVisor - the cooling sun shield for men and women
If the sun burns on your head, you could be an emergency case at worst. With the E.COOLINE Powercool SX3 SunVisor you can keep a cool head at all times, even in hot weather. With the cool sun visor you sweat significantly less. Whether you're playing sports, in the garden or simply on a shopping trip - with the actively cooling headgear, you can spend time outdoors in the heat without a care in the world and feel fresher, can concentrate better and have significantly more energy.
Choose the Visor Cap in your favorite color and play tennis, field hockey or golf even in hot temperatures.
The lightweight, cooling SunVisor protects your eyes from blinding sun and is a stylish accessory thanks to its simple design. With the adjustable Velcro closure, it can be ideally adjusted to the head size, so that a perfect fit is guaranteed. Due to the low weight, the SunVisor is hardly noticeable.
One size fits all (50 to 58 cm head circumference).

Material: Upper material: 100% polyester; Filling: 100% COOLINE polyester.
With the E.COOLINE Powercool SX3 SunVisor you can cool down in a climate-neutral manner with technology "Made in Germany".

---
360° view - E.COOLINE Powercool SX3 SunVisor / cooling sun shield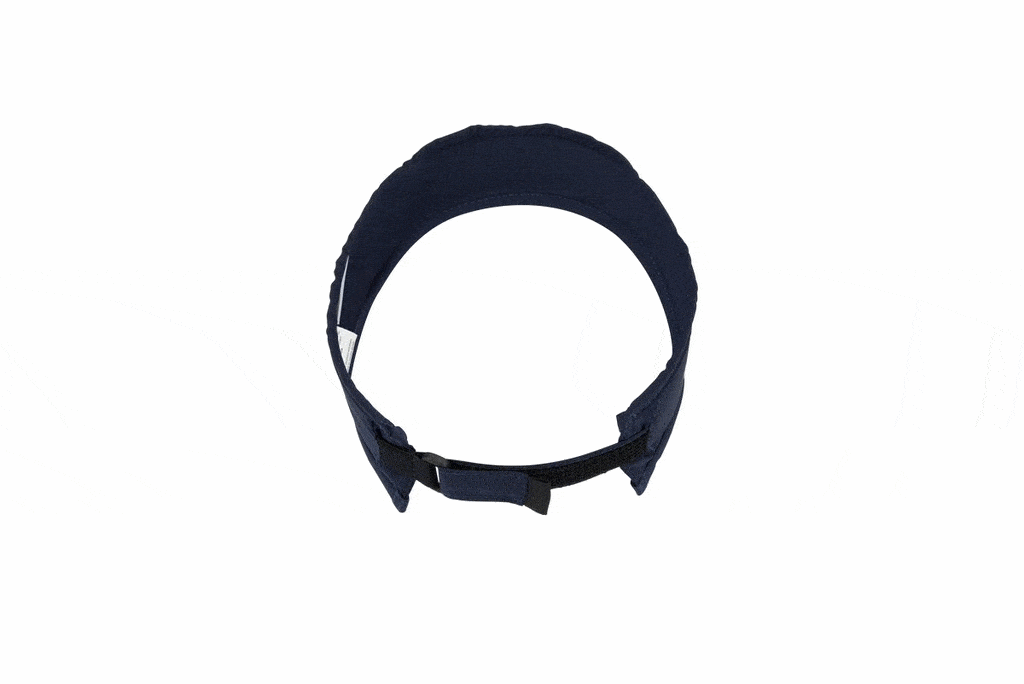 Einheitsgröße (50 bis 58 cm Kopfumfang).
E.COOLINE Kühlkleidung ist – im Gegensatz zu den meisten anderen Kühlfunktionstextilien – waschbar.

Alle unsere Artikel sind per Handwäsche oder im Wollwaschgang ohne Schleuderfunktion bei 30°C mit dem für E.COOLINE Kühlfunktionstextilien entwickelten Spezialwaschmittel 'DEOXX® ecowash' (alternativ: TOKO® ecowash) waschbar. Auch viele andere handelsübliche ph-neutrale Flüssigwaschmittel sind geeignet, wobei wir aufgrund der unterschiedlichen chemischen Zusammensetzungen hierfür keine Garantie geben können.

Bitte beachten Sie die dem Produkt beiliegende Anleitung.
---
The COOLINE SX3 technology
The COOLINE SX3 technology integrated in E.COOLINE provides up to 660 watts of cooling energy with smart fibers. By this way you can achieve effective cooling temperatures of up to 12°C and save up to 97% CO2 compared to air conditioning systems. This is not only cool, but also environmentally friendly.
The big advantage of COOLINE SX3: Everyone cools individually. Whether at work, during sports or in your free time - thanks to the patented technology and the DEOXXfresh finish, the washable cooling vest with the technology 'Made in Germany' ensures the perfect feeling of freshness in every situation.
How to activate the E.COOLINE cooling textiles
Simply activate the textile under the tap with approx. 0.25 liters of water, dry it off and put it on. The cooling textile is dry and ready for use within seconds - anytime and anywhere. It provides up to 10 hours of quick and easy cooling in the heat. An external, environmentally harmful energy source is not required. For this reason - and because it is produced in a climate-neutral manner - our cooling products also put you in a good mood when it comes to sustainability.
Please also note the instructions included with the product.
Run water evenly over the "padded" part of your product at the front and back (approx. 3 sec. per side) until all areas are darker. Or soak this part for max. 1-2 sec. e.g. in the sink. Lightly squeeze out excess water.
Then place your E.COOLINE product on a towel and wrap it under light pressure. You can also simply rub the outer fabric with a cloth. Then let it air dry for a few more seconds.
The outer fabric is immediately dry again and your product is now ready for use. E.COOLINE cools you climate-neutrally with a pleasant cooling of up to 660 watts for several hours. The activation process can be repeated at any time.
var $zoho=$zoho || {};$zoho.salesiq = $zoho.salesiq || {widgetcode: "627322ffd95f4e58af099d901b64b1c6ecbe7c4a0cccf4146256a1928d5c1cd3", values:{},ready:function(){}};var d=document;s=d.createElement("script");s.type="text/javascript";s.id="zsiqscript";s.defer=true;s.src="https://salesiq.zoho.eu/widget";t=d.getElementsByTagName("script")[0];t.parentNode.insertBefore(s,t);