pervormance international GmbH
E.COOLINE Powercool SX3 BaseCap Pro - cooling baseball cap with neck protection
---
Item number 27107155-230-2
---
Powercool SX3 BasecapPRO – the cooling basecap with neck protection
Cool cap for cool applications: The E.COOLINE Powercool SX3 BasecapPRO with neck protection ensures through active cooling that you keep a cool head even in unbearable heat. The cooling cap with neck protection will make you feel fresh with an increase in concentration and energy. This works at work, during sports and in your free time.
The baseball cap does not only facilitate your daily life, it also protects you from UV rays with its neck guard in signal colors. This results in a visible reduction of the risk of skin cancer. The neck protection is not removable and thus meets the requirements of the professional associations for suitable cooling headgear. The high visibility of the warning color in the neck area makes working outdoors safer and can be life-saving in extreme cases. This makes the cap with neck protection the perfect heat and UV protection UPF50+ (certified by DIN EN 13758-1) for outdoor work. Our BasecapPro is also known to be subsidized by various trade associations for member companies with a grant of up to 50%.
The material is lightweight and soft. The classic cut and good fit ensure a high level of wearing comfort. With its curved visor, the cooling cap protects the eyes from blinding sun. It can be continuously adjusted by Velcro at the back of the head and thus ensures a comfortable fit.
Material: Upper material: 100% polyester; filling: 100% COOLINE polyester.
With the E.COOLINE Powercool SX3 BaseCap Pro you can cool down in a climate-neutral manner with technology "Made in Germany".

---
360° view - E.COOLINE Powercool SX3 BaseCap Pro / cooling baseball cap with neck protection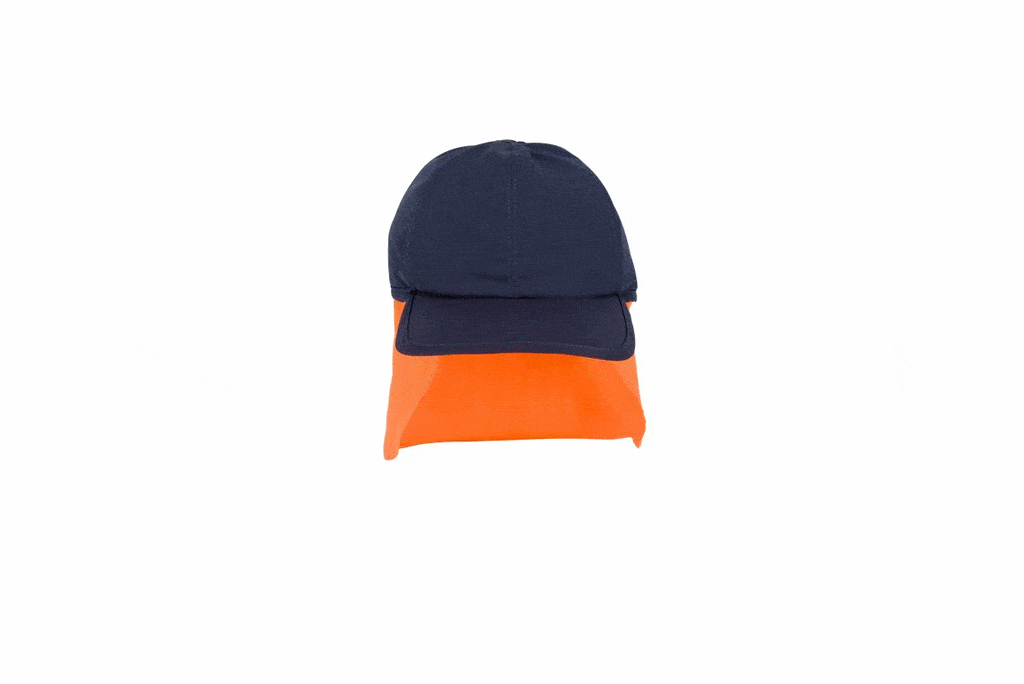 | | |
| --- | --- |
| Size | Head circumference |
| S | 49 - 55 cm |
| L | 55 - 58 cm |
E.COOLINE cooling clothing is washable, unlike most other cooling fabrics.

All our products are fit for hand washing or the wool wash cycle, without spinning, at 30 °C. We recommend for E.COOLINE cooling textiles our special detergent, DEOXX® ecowash '(alternatively: TOKO® ecowash), developed for E.COOLINE cooling textiles. Many other commercially available pH-neutral liquid detergents are suitable.
Please refer to the product enclosed instructions.
---
The COOLINE SX3 technology
The COOLINE SX3 technology integrated in E.COOLINE provides up to 660 watts of cooling energy with smart fibers. By this way you can achieve effective cooling temperatures of up to 12°C and save up to 97% CO2 compared to air conditioning systems. This is not only cool, but also environmentally friendly.
The big advantage of COOLINE SX3: Everyone cools individually. Whether at work, during sports or in your free time - thanks to the patented technology and the DEOXXfresh finish, the washable cooling vest with the technology 'Made in Germany' ensures the perfect feeling of freshness in every situation.
How to activate the E.COOLINE cooling textiles
Simply activate the textile under the tap with approx. 0.25 liters of water, dry it off and put it on. The cooling textile is dry and ready for use within seconds - anytime and anywhere. It provides up to 10 hours of quick and easy cooling in the heat. An external, environmentally harmful energy source is not required. For this reason - and because it is produced in a climate-neutral manner - our cooling products also put you in a good mood when it comes to sustainability.
Please also note the instructions included with the product.
Run water evenly over the "padded" part of your product at the front and back (approx. 3 sec. per side) until all areas are darker. Or soak this part for max. 1-2 sec. e.g. in the sink. Lightly squeeze out excess water.
Then place your E.COOLINE product on a towel and wrap it under light pressure. You can also simply rub the outer fabric with a cloth. Then let it air dry for a few more seconds.
The outer fabric is immediately dry again and your product is now ready for use. E.COOLINE cools you climate-neutrally with a pleasant cooling of up to 660 watts for several hours. The activation process can be repeated at any time.
var $zoho=$zoho || {};$zoho.salesiq = $zoho.salesiq || {widgetcode: "627322ffd95f4e58af099d901b64b1c6ecbe7c4a0cccf4146256a1928d5c1cd3", values:{},ready:function(){}};var d=document;s=d.createElement("script");s.type="text/javascript";s.id="zsiqscript";s.defer=true;s.src="https://salesiq.zoho.eu/widget";t=d.getElementsByTagName("script")[0];t.parentNode.insertBefore(s,t);